Indian art

• Bamboo and Cane Craft
http/2.bp.blogspot.com/_WyAR6heyg2o/TNVIC17VGYI/AAAAAAAADC8/_ikDGKad8JU/s640/DSC01078.JPG

Bamboo crafts in India are very popular due to its eco friendly attributes. Since ancient times, bamboo crafts had been occupying a significant position as India produces a huge amount of bamboo and cane. The bamboo craft is associated with cane and bamboo, and had been a part of Indian crafts giving rise to the expression of tribal art and provided them livelihood.
http/www.indianetzone.com/photos_gallery/44/meghalaya-cane-furniture.jpg

As India is blessed with deft artistry, these types of craft developed in this country very soon and with the changing of style and trend, the craft has developed its designs and deftly blended tradition with fashion.
• Leather Craft
http/thumbs.dreamstime.com/thumblarge_632/13162320175GFQqv.jpg
http/www.allproducts.com/manufacture100/jaipurmart/product1.jpg
http/1.bp.blogspot.com/_Ko-5QWyxoMw/TNDQXcS-bYI/AAAAAAAAATQ/5JBElHXSy94/s1600/Indian_Traditional_Handmade_Leather_Bridal_Khussa_Shoes.jpg

The Indus valley civilization mentions the history where several references were found regarding the leather craft of India. The concept of leather craft came into existence when men realized the usage of animal skin for their clothing. The people of lower classes and rural areas initially practiced the craft of leather in India.
http/www.wolfden.ca/graphics/main.jpg

Toys and puppets made of leather were used by the puppet masters in India since ages and are still reckoned as one of the finest example of leather craft. Split ply camel girths of Rajasthan are generally made manually by hand without involving any sort of loom. Goat hair or cotton cord is woven into yarn on the spindle that is then doubled to make it two-ply and so on. A four-ply yarn is used for girth, with each ply being two-ply; black and white yarn.

• Wood craft
http/www.indianetzone.com/photos_gallery/1/201_wood_Craft1.jpg

Woodcrafts of India are famous since ages and probably one of the most primitive arts. Woodcarving is an ancient craft practised in India long before stone sculpture, which itself dates back to ancient times. Indian wood worker designated as sutradhar has always held a high position in the society. Wood which was used for fuel and making of tools in ancient times, can now be seen in every walk of life, from pillars, doors, window to household articles.
http/handicraft.indiamart.com/gifsd/wood-crafts.jpg
http/www.indianetzone.com/photos_gallery/7/craftWest_20219.jpg

Wood carving, one of Karnataka oldest crafts embellished the doors and ceilings of temples and temple chariots. The most popular and noteworthy example of it, however, are the sandalwood carvings, which are a hereditary craft, going back several generations. It is mainly a household craft.

• Stone Craft
http/3.bp.blogspot.com/_Va40yjzpBrs/SHdEZTm4giI/AAAAAAAACRM/8JN38j0L30E/s400/Agra+Marble+Stone+Work.JPG

In interiors of India stone craft is practiced through exquisite figures that are carved in relief with details engraved in fine lines. These objects are handmade artistic work made using hammer and chisels. In ancient times, stone carving was used for making small weapons like arrowheads, javelin points, hammer etc. Excavations reveal carving of stone figures 3000 year old.
http/www.loulisa.net/wp-content/uploads/ganesha1-225x300.jpg
http/www.allindiatraveltours.com/images/stone-marvel.jpg

Ancient tradition in stone carving in Bihar is proved by the magnificent sculpture of the Mauryan period. They had a technique of high polish which can still be seen in the Ashoka pillar at Sarnath, the beautiful black stone with a touch of green in it that surprises one with its lustre.

• Horn and Bone Craft
http/www.craftandartisans.com/sites/default/files/imagecache/inside-view/Bone%20Products%20from%20Orissa.jpg

http/www.indianetzone.com/photos_gallery/1/192_Horn_and_Bone_Craft1.jpg

Horn craft is the rich cultural heritage of the artisans of Paralakhemundi, Gajapati district of Orissa. Originally carpenters by birth and trade, they took to horn craft during the reign of Sri Krushna Chandra Gajapati Narayan Deb, the Maharaja of Paralakhemundi.
http/i.ytimg.com/vi/z9woDY5P1PE/0.jpg

Jewellery, ornate table lamps, chess-sets, cigarette holders, napkin rings, salt and pepper sets and laughing Buddha, table-lamps, chess sets, animal figures, decorative plaques, bridges of animals, paper cutters, the Emblem of India, napkin rings, salt and pepper sets, tooth picks, hair pins, bangles, lockets, necklaces, figures depicting Indian dances are produced

• Indian Painting
http/www.all-about-india.com/images/Indian_art_painting_Krishna.jpg

India, the land of color, joy, beauty and dream can be best silhouetted through Indian paintings. If one wants to appreciate India, then Indian paintings must be observed if one wants to appreciate Indian paintings it is the whole India which needs to be observed. Like India, Indian paintings are also vast, diverse, historic and unique. Indian painting with its sheer dynamism showcases the artistic elegance of the country.
http/idyllic.files.wordpress.com/2011/06/warli1.jpg

Be it the murals of Ajanta, Ellora, the Buddhist palm leaf manuscripts, the Jain texts or the Mughal, Deccan and Kangra discipline of miniature painting, there is one common theme between all of them; a classical demonstration of the innocence of art, beauty and truth.
• Indian Mughal Painting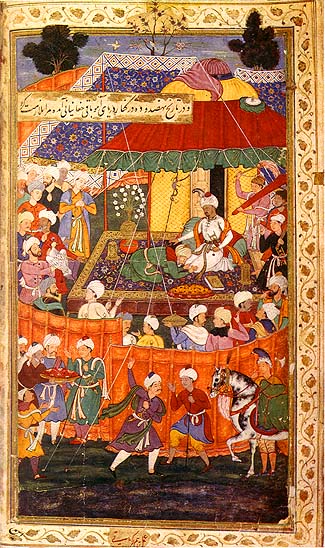 http/depts.washington.edu/silkroad/texts/babur/images/baburn4.jpg

Mughal paintings in India date back to the period in between the sixteenth and the eighteenth century. It was the period when the Mughal emperors ruled over a large portion of India. The paintings of the Mughal era in India or the Mughal paintings of India flourished and developed during the rule of Emperor Akbar, Jahangir and also during the reign of Shah Jahan. Mughal Paintings form a blend of the Persian and Indian style. The paintings of the Mughal era depicted several themes. The paintings of that period were rich in their range and included events, portraits and scenes of life of the courts, hunting scenes and wild life, and instances of battles.
http/3.bp.blogspot.com/-_9Z2Ne8bjBo/T8xhW9sX9sI/AAAAAAAAA2g/QmMF6rZ0LDw/s1600/Kangra.jpg